Tammin . com Is Live
The brand new official Tammin website is online and looking mighty fine!! Your one-stop Tammin mecca has all the latest news, appearance dates and more - subscribe now and get updates sent straight to your inbox...



Tammin's brand new official webite, www.tammin.com, has been launched into cyberspace and is looking mighty fine!! Replacing her previous website, your new one-stop Tammin mecca is home to all of the singer's latest news, appearance dates and more, and will be getting more cool new features over the coming weeks including a forum for fans to talk it up, more gallery snaps, a profile section, a Home And Away page and some of Tammin's fave little quotes. Phew!

Subscribe to Tammin's site now and we'll hit your inbox with all of the latest updates from Tammin's world as soon as they happen.

Subscribe away...

And don't forget, you can catch Tammin doing the last of her series of instores around the nation this week - .get along, say hi and get your copy of Tammin's debut single 'Pointless Relationship', released this week, personally signed! You don't want to miss it...
----------------------------------------------------------
Tammin
Interview by Tim Cashmere
Photo by Ros O'Gorman

To her legend of fans, the name Tammin Sursok is as well known as her television character name Dani Sutherland.

The Home and Away star has released her debut single 'Pointless Relationship' and is working her way to the debut album to be released early in 2005.

She dropped by Undercover to talk with Tim Cashmere.

THE INTERVIEW (click Play Video to watch interview)


Part 1 New album, juggling life on 'Home & Away' with recording the album, first single 'Pointless Relationship'. Play Video

Part 2 Recording the album overseas, having a live feel on the album, coming into music from soap career. Play Video

Part 3 Receiving support from mum - an award winning singer, Australian Idol. Play Video
--------------------------------------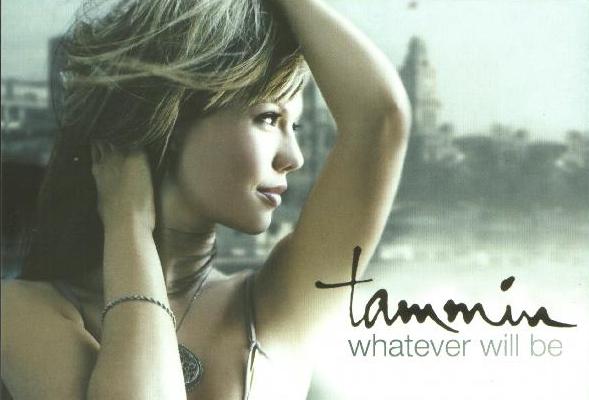 ---------------------------------------------------------------------------------------
Tammin Turns Covergirl And Shoots New Movie In QLD


Talk about busy! Not only is Tammin all over the airwaves with her new single 'Whatever Will Be', she'll also be all over magazine stands next month as the cover girl of Cleo's April edition and will be appearing in the upcoming flick 'Aquamarine'...
As if having her new single 'Whatever Will Be' (released March 27) to promote isn't enough to keep her well and truly occupied, pop singer Tammin recently managed to squeeze in some time with Cleo magazine and it's now confirmed the resulting photo shoot will grace the cover of the mag's April edition. With some amazing new pics, a feature article and interview, this is one fans will definitely want to stock up on!

Tammin's crazy schedule doesn't stop there either...she's also about to make her debut as a film actress, in the upcoming Fox 2000 feature flick 'Aquamarine'. Tammin has been busy on location in Queensland for the last two weeks shooting the film, which also stars teen pop sensation JoJo of 'Leave (Get Out)' fame, actress Sara Paxton (Sleepover, Summerland) and Spymate's Emma Roberts (neice of that other slightly famous star with the last name of Roberts...Julia!).

Based on the novel by author Alice Hoffman, 'Aquamarine' is the story of two best friends who find a brokenhearted mermaid in the swimming pool of a deserted beach club. Directed by Elizabeth Allen and produced by Susan Cartsonis (What Women Want, Where the Heart is) and Steven McGlothen (I, Robot), 'Aquamarine' is slated for release in Australia late 2005/early 2006 - lots more news on this coming soon!

-------------------------------------------------------------------------------------
Go Track By Track With Tammin Through Her Debut Album!



Here's a double whammy for Tammin fans - not only have we got the tracklisting for Tammin's debut album 'Whatever Will Be', out on Sunday, May 22, but the tiny pop powerhouse has talked us track by track through the whole set!! Check it out...


With two smash hits - 'Pointless Relationship' and title track 'Whatever Will Be' - serving as a huge teaser, Tammin's oh so eagerly awaited debut album finally arrives on Sunday, May 22, and if you loved the first two singles, get ready to be blown away...there are plenty more equally as good tracks on this brilliant set that are going to rock your world!

Recorded in Sweden and Australia, and featuring production by heavyweights such as Steve Robson (Natasha Beddingfield, Natalie Imbruglia), The Location Crew (Dido, Christina Aguilera), Soulpower (Christina Milian, Brandy) and A-Side Productions (Britney Spears, Ashlee Simpson), 'Whatever Will Be' is an album of moods that runs through a spectrum of themes including relationships, family, love, growing up and finding your way.

Veering from dark and edgy mid tempo ballads ('World Without You', 'Backwards Again') to shimmering guitar pop-rock ('It's A Little Late', 'Better To Be Lonely', 'Almost Me'), Tori Amos channelled piano ballads ('Tender', 'Whatever Will Be' - both highlights), sunny pop ('It's a Beautiful Day'), searching ballads ('Something Better') to the gloriously off-kilter ('Around the World'), this a debut album of which Tammin is not only justifiably proud but which will establish this 21-year-old singer/songwriter as a pop artist with soul, integrity and a wonderfully discordant pop sensibility.

Tammin talked us through the album, track by track, to give us her take on each of the 12 songs...read on to see why we're wishing May 22 would hurry up and roll around!

Pointless Relationship
This is an up-tempo, guitar driven track. It was written and recorded in Sweden on a seven-day trip to Europe. It was minus 15 degrees when we recorded the vocal and everything inside was starting to freeze! I think it has a good message: if you're in a dead end relationship, then get empowered and move on.

World Without You
Also recorded in Sweden. It's dark and moody song and one of my favourites. When I heard the song I knew it had to be part of the album. I'd love this to be a single.

Backwards Again
This was recorded in LA with Soul Shock, who's recorded with Whitney and Toni Braxton. I think it gives the album a bit of light and shade. It's a funky mid-tempo, quirky song. I remember recording this with a wonderful writer but after every verse, he would have a cigarette. So we were there for hours too long!

Whatever Will Be
This is the titled track of the album and a song that I really think sums my life up. It's driven by piano - a big orchestral ballad. It says that even though life has many trials, there is a path planned out for us and whatever will be, will be. I flew to Stockholm for one day to record this? it was too good to let go!

It's A Beautiful Thing
I heard this in the car a few years ago and I had just fallen in love. I turned it up, rolled down the window and sang it at the top of my lungs. It's such a catchy, uplifting, up-tempo guitar track that makes me smile. It's one of the poppier songs .

Something Better
Every time I hear this song, I nearly cry. The melody is so beautiful and the words so true. It's a piano ballad written and recorded in the UK. The song is about going in and out of love, never knowing what we want, always holding out for something better. It was a hard song to record as we all wanted it to be perfect. But we got there in the end.

Better To Lonely
I heard this two years ago and really liked how I could zone out and just move to it. The song is an up-tempo guitar track and was recorded in Sydney. Now that I've grown up a bit, it reminds me of when I was a lot younger. It's a lot of fun it talks about how girls should feel happy being single and empowered.

Almost Me
This is a rockier song with a lot of life to it. I wrote it when I was feeling melancholy. It's saying I can't wait to be the person I know I could be. But it's OK, I've got a lot of time...

Tender
This song is a very slow, sad, discordant song which evokes so much emotion. It was recorded in London in an old house and I love everything about this song. It reminds me of relationships in my own life..."Life's not remote controlled, I need to get treated a little more tender". We only did the vocals twice - the emotion just seemed to flow out.

It's A Little Late
A guitar based, mid tempo track. I love this song because the lyrics tell a story. It's about not realizing what you have in a relationship and telling that person you need time to think. But when you decide you want them, they're gone. I love performing this song on stage acoustically as the harmonies really stand out. One day, I will be up there with my guitar joining in!

Around The World
A cute, quirky song that I wrote on a plane to London. It's about going to all these incredible countries all over the world but leaving someone special behind. We recorded the vocals in 30 minutes and had such a ball recording it.

Ordinary Day
It's a raw guitar song that was written about a past relationship I had. It's about the woman wanting to be loved and cared for and about the man never really understanding and always leaving when there's conflict.

Tammin's debut album 'Whatever Will Be'