When the lights go down...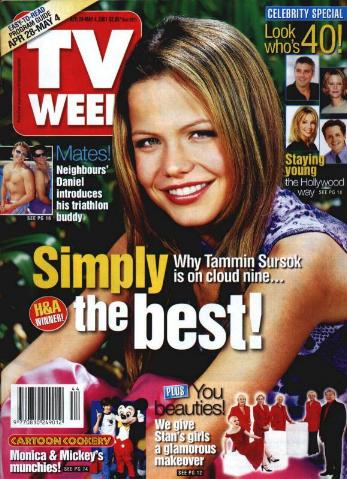 The name Tammin Sursok meant little to most TV viewers this time last year. What a difference 12 months can make! Tammin is now one of our most popular young stars, thanks to her role as feisty Dani Sutherland in Home and Away.
Her fan mail arrives by truck load, she's in demand for public appearances and she has emerged from her first TV Week Logie Awards with the poise and confidence of a winner. All this at the tender age of 17, too! Other young actors may lose their identity in the bubble of fame but Tammin has kept the qualities that make her an exceptional young woman.
Perhaps the most endearing thing that comes across is her total modesty. There's something about her that seems to ask the question " Why me? ", and in the competitive world of television she is a breath of fresh air. " I'm so lucky to be on Home and Away and experiencing all these great things ", she says. " It's important to me not to take it for granted because I know that a lot of people don't get an opportunity like this. You have to give it everything you've got ". It may seem like Tammin is an overnight success story but that is a long way from the truth. Since moving with her family from her native South Africa at the age of four she has taken slow but steady steps to break into the entertainment industry.
Her childhood was filled with music and performance and it wasn't long before several professional agents were competing to represent her. Despite this Tammin admits there aws a time when she thought she wouldn't make it at all. " I couldn't believe it when I got the part of Dani ", she says. " It's something that I have always wanted to do - and I thought if I didn't make it soon I never would. It came at a good time. " I was a big Home and Away fan, so it's a dream come true to be in the show ". Tammin may have doubted her chances when she first auditioned for the role of Dani but casting director Anousha Zarkesh knew better.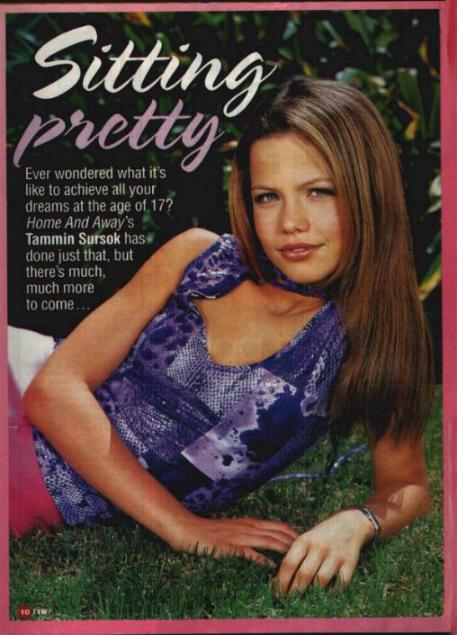 " She shone straightaway - as soon as she walked into the room. It was an immediate reaction ", says Anousha, the woman responsible for discovering many Home and Away stars. " Tammin had everything we were looking for. She has a beautiful and vibrant personality and her acting ability first and foremost had everything we required for the role of Dani. She absolutely stood out and we knew that she would immediately be a star ". There is no shortage of people willing to sing Tammin's praises. Home and Away producer Russell Webb believes he has found a rare and genuine talent. " Tammin has a unique magic about her that comes through on screen ", Russell says. " Her acting ability speaks for itself. I think she is a little magic find of hidden talent that obviously now everyone has discovered! "
At TV Week we have also been impressed by Tammin's professionalism. Photogragher Julia Morrell has been pointing her camera at celebrities for almost two decades and counts Tammin as a favourite subject. " The first time I worked with Tammin it became obvious to me that she is a very mature young woman who has an exciting career ahead of her ", Julia says. " It sounds cliche`d to say that the camera loves her but it does.
" Not all actors are comfortable doing stills but Tammin is able to use the medium and make a photo come alive. I would say that part of this comes from her experience as a model but most of all it's a confidence that comes from within. It's clear that she comes from a very stable background ". Tammin's parents Daryl and Julie are responsible for giving her a solid foundation in life. Far from being the typical stage mother , Julie has passed on the wisdom and experience she gained from being a successful singer and actor in South Africa. However she doesn't take all the credit.
" We are very proud of Tammin but it hasn't been easy for her ", Julie says. " She had a lot of knocks and got turned down for a lot of things but she never gave up. She used to say, ' Oh, Mum, when are things going to work out? ' I'd say, " Darling be patient '. She deserves to be where she is today ". Home and Away fans will be pleased to learn that Tammin has no intention of leaving the show. As viewers will know her character Dani is currently embroiled in a major storyline with Will Smith [ Zac Drayson ] and Gypsy Nash [ Kimberley Cooper ] and Tammin is loving every minute of it.
" Dani is a great character and the storylines are fantastic ", Tammin says. " I'm learning so much and working with such great people. There is nothing that I would rather be doing ".
But don't be surprised if she breaks into the music industry at some stage. " I love singing and Mum is teaching me how to play the gutar ", Tammin says. " It's something I definitely want to do more of down the track ".